Irish Wing Tsun Seminar with Dai-Sifu Rainer Tausend
The national Wing Tsun instructor for Ireland, Dai Sifu Rainer Tausend, returned to Dublin in April 2013 to deliver a series of seminars for students and instructors. The instructor seminar took place on Saturday the 20th in the Blanchardstown school and was attended by instructors from the Dublin City Centre, Blanchardstown, Maynooth and Wexford schools. Also in attendance was Si-Hing Nicolas Maraite who lives in Luxembourg and travels on a regular basis to Sifu Tausend in Germany for training. The instructors worked on defences against common pushes and pulls with punches from behind and then on defences against take downs. After a short break the instructors worked on their individual programmes.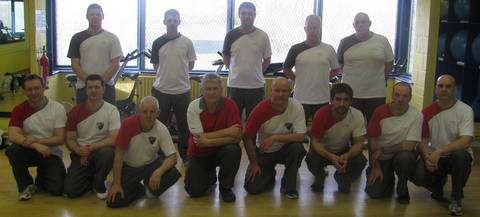 The student seminar the next day, also in the Blanchardstown school, started with Dai-Sifu Tausend making a special presentation. He presented Sifu Aidan with the certificate for his 5th PG and Sifu Michael with the certificate for his 4th TG. While both instructors were officially promoted on the 31st of December 2012, as this was Dai-Sifu Tausend's first visit to Ireland this year, it gave him the chance to award them their certificates.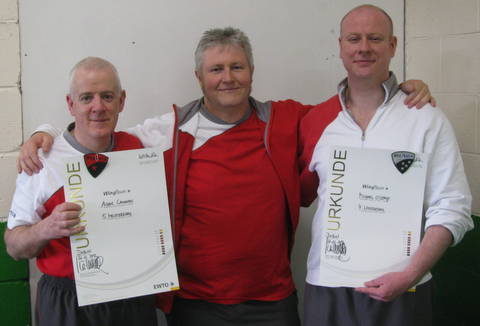 The seminar began with Dai-Sifu Tausend checking and answering questions on the Wing Tsun forms. The students then worked on similar defences from the previous day. This was worked on at a high intensity and an increasing tempo to emphasise the need to react quickly to such surprise attacks. The gradings started following the break with Sifu Michael checking students on programmes 1-4, Sifu Aidan on 5-8 and Dai-Sifu Tausend on 9-12. Congratulations to all those who passed their exam.

Sifu Aidan and Sifu Michael took private lessons from Dai-Sifu Tausend the following day with Sifu Aidan working on the Wing Tsun knives and Sifu Michael working on chi-gerk. All students and instructors would like to thank Sifu for another successful weekend and look forward to his next visit in the summer.