Irish Wing Tsun Seminar with Dai-Sifu Rainer Tausend
The national Wing Tsun instructor for Ireland, Dai Sifu Rainer Tausend, returned to Dublin in August to deliver a series of seminars for students and instructors. The instructor seminar took place on Saturday the 3rd in the Blanchardstown school and was attended by instructors from the Dublin City Centre, Blanchardstown, Maynooth and Wexford schools. After checking the instructors on the Siu-Nim-Tau, Cham-Kiu and Biu-Tze forms, Si-fu taught the instructors applications of the side kick and following the break they worked on their individual programs with a special emphasis on the 6th section of Chi-Sau.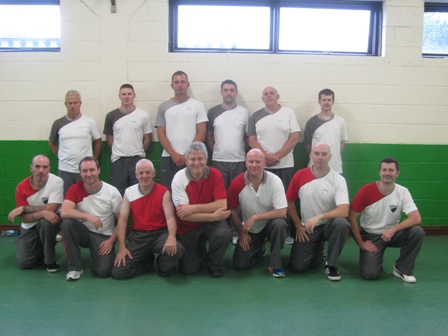 The student seminar took place the following day and started again with Si-fu checking the Siu-Nim-Tau and Cham-Kiu forms. He then taught a series of techniques demonstrating what to do when your hands are under your opponents. While we want to have our hands in front of us as a barrier between us and our opponent, sometimes we can be caught out with our opponents hands over our hands. Using a double Huen-Sau, Jut-Sau and punch we can regain our advantage and Si-fu then showed counters to the same movement and highlighted how these movements are contained in the 7th section of Chi-Sau.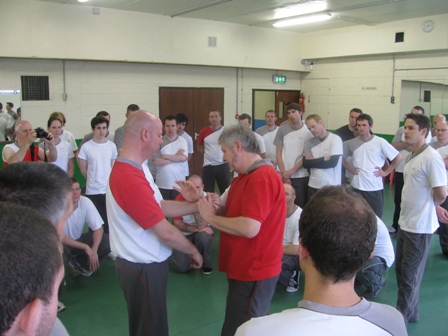 Following the break students worked on their relevant programs before Si-fu started the grading. Sifu Aidan and Sifu Michael checked those students going for the 1st to 6th grade with Si-fu testing those from 7th to 12th. Congratulations to those students who successfully passed their exam.

| | |
| --- | --- |
| Andrea Tuberti | 12th SG |
| Maurice Curtin | 12th SG |
| Kenneth Tsang | 10th SG |
| Micheal Preston | 10th SG |
| Martin Casserly | 7th SG |
| John Dennedy | 7th SG |
| John Hosey | 7th SG |
| Paul Doyle | 6th SG |
| Mo Radiom | 6th SG |
| Aine Trowell | 6th SG |
| Cathal Simpson | 5th SG |
| Mick Shanahan | 5th SG |
| Diego Menin | 4th SG |
| Erik Nolan | 4th SG |
| Robert Giltrap | 4th SG |
| Marcin Klinkosz | 4th SG |
| J Toolan | 2nd SG |
| Joe Kennedy | 2nd SG |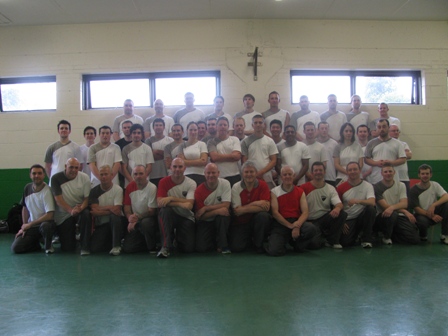 Sifu Aidan and Sifu Michael took a few hours of privates on Monday afternoon before Si-fu flew home. They worked on some finer points of the student programs, reaction training and while Sifu Michael worked on the long pole, Sifu Aidan worked on the Wing Tsun knives. Again all the students and instructors of the Irish Wing Tsun Organisation would like to thank Dai-Sifu Tausend for a great weekend and we look forward to seeing him in November for the next round of seminar.