Student & Instructor Seminars - June 2015
With Dai-Sifu Rainer Tausend 7th PG
EWTO country coach for Ireland, Dai-Sifu Rainer Tausend, returned to Dublin on the weekend of June 27th and 28th for a series of seminars.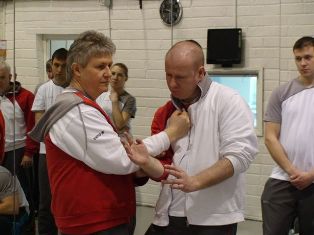 The seminars took place in the Coolmine Sports and Leisure centre.
At the instructor seminar on the Saturday Sifu Tausend spent time focusing on the use of the tan sau and bong sau depending on the direction of pressure and to deal with a change in the direction of pressure. Before moving on to work on their programmes the instructors spent time dissolving direct pressure using the bending from the Biu Tze form.
On Sunday, focus at the student seminar switched to defending against an attack at any height using a gan sau and punch. The students worked on stepping in with the gan sau to drive the attacker back and prevent a follow up attack. They then switched the punch to a jut sau to handle an attacker who covers up.
After a short break Dai-Sifu Tausend, assisted by Sifu Canavan and Sifu O'Leary, tested a number of students for various student grades.