Garda Awareness Campaign
The Garda have launched an awareness campaign about street assaults.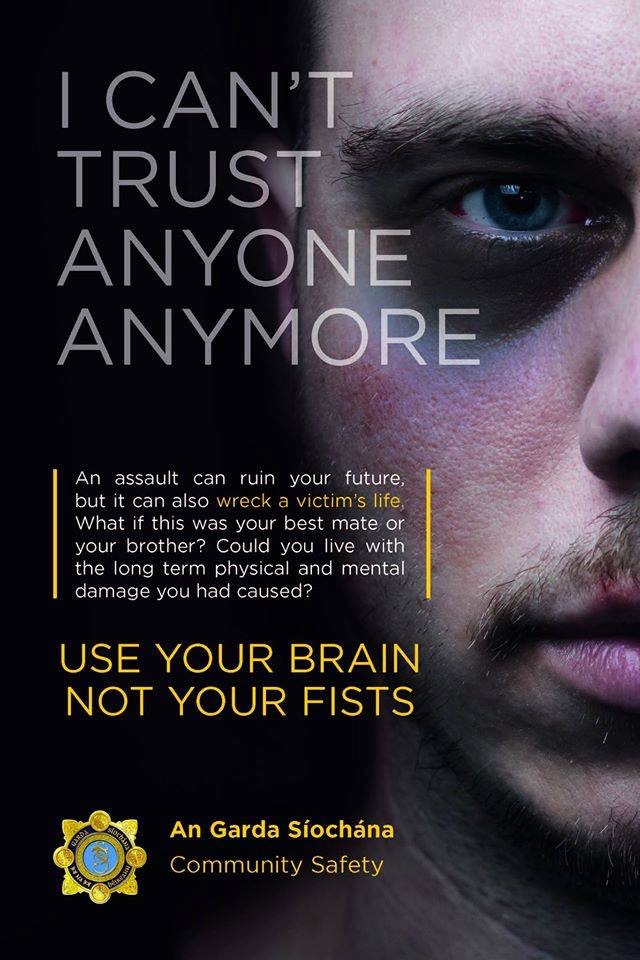 The campaign is not looking at the sort of assaults used to, for example, steal a phone or a bag. Instead it is talking about what could be termed "social assaults". Assaults that take place after a few drinks when people just aren't thinking straight and allow slights and accidents to develop into something they really shouldn't.
These assaults typically take place in and around public places (street, roads, pubs and hotels) between 8pm and 5am at the weekend. Approximately 25% of incidents linked to the night time economy involved intoxication of either the suspect offender, the victim, or both.
"The vast majority of assaults that occur are needless and avoidable," says Sergeant Kelvin Courtney, Garda Community Engagement. "They are usually carried out by males against males aged between 18 and 39, during evenings and early mornings. Don't be that guy; use your brain not your fists."
A simple message and a commendable one.
We're a Kung Fu school. Using our fists is a sizeable part of what we do. But that's not all we do and the fists part is the last resort. Recognising that the best way to survive a violent encounter is not to have a violent encounter we also spend a lot of time on spotting danger, avoiding danger, de-escalating potentially violent situations and, if all else fails, escaping them.
If you'd like to learn more and see what we do for yourself we have classes every Monday (8-9:30) and Thursday (8:30-10) in Navan's premier Yoga studio - Yoga with Roisin.